Believe it or not, car tires do have an expiration date. Although, they're usually more of a guideline. Still, using your tires beyond their useful life could be dangerous.
Most tire manufacturers rate their tires for a 6-year lifespan, however, the amount of remaining tread is the better indicator for safe usage. A tire should have a minimum of 2/32 of an inch of tread remaining to be considered safe to drive on.
Although a set of new tires should last about 5 or 6 years, people who don't drive much might not need to replace them as often based on their remaining tread.
Keep reading to learn how to find a tire's expiration date, as well as how to know when it's time to replace them!
Do Car Tires Really Expire?
Tires tend to break down faster than they expire, but they've got an actual expiration date as well. Most of the time, customers don't even realize it's there. But, all tires have them!
Typically, manufacturers place expiration dates 6 years from when a tire was made. Driving on them longer than that could put you at risk. Rubber doesn't last forever, so replacing your tires should be a priority.
Perhaps, you've heard of tire rot before. That's what happens to tires that don't get replaced. Eventually, weather eats away at the tires, breaking them down.
How to Know When Your Car Tires Expire?
You can check for yourself to see when yours expire!
The Department of Transportation requires all tires have a code placed on them. This 11-digit code tells you when they'll expire. And, it'll let you when they were first built as well.
Tires made prior to the year 2000 have a 10-digit code placed on them. But, those should all be well past their expirations now. So, if you see a 10-digit code, that tire would probably be too old to use anymore.
Usually, these dates are set when tires are first created. Standard rules place the expiration date 6 years from that point.
Tire Expiration Date Location
All tires have a 10- to 11-digit code stamped inside of them. Nowadays, a lot of manufacturers place a shorter code on the outside too, though.
The external code should be three strings of 4 digits. The final 4 digits represent the tire's most important information. That's when the tire was manufactured. The first two represent the week, and the last two represent the year.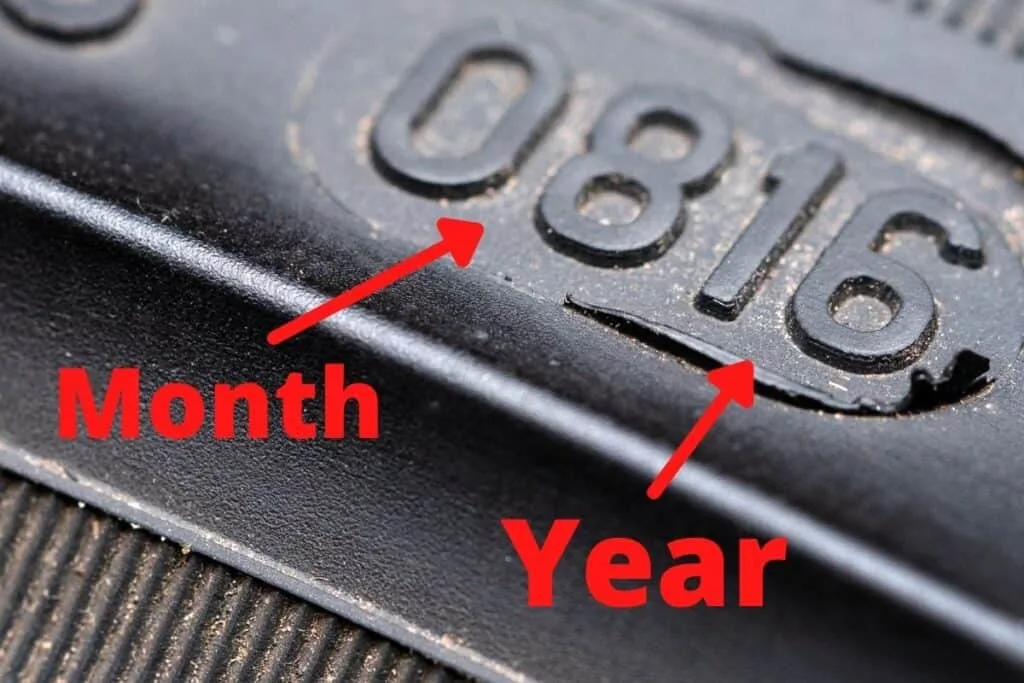 So, let's give you an example. You're inspecting the tire, and you find the numbers 2518 on the outside of it. That would mean the tire was manufactured during the 25th week of 2018. If that were the case, the tire would be about 5 years old then.
Since it would be less than 6 years old, you might still be able to use it safely. Check it for signs of wear, and look out for dry rot. If it looks like it's in good shape, check out its tread. As long as all that checks out, it's probably safe to use.
Do All Tires Age at the Same Rate?
All rubber ages, and it'll slowly break down even without use. Typically, rubber compounds break down at a fixed rate. That's why most tires only have a useful lifespan of 6 years.
However, certain high-mileage tires could last a little longer. These are made with special compounds inside of their rubber. Those prevent the rubber from breaking down as fast, prolonging their lifespans.
Driving on flat tires tends to age them a lot faster, though. Even overinflated tires won't last as long, either. Make sure yours are always properly inflated and aligned. That will make them last as long as possible.
How to Know When to Replace Your Tires?
If you're worried about your tires, you can always check on them. The easiest thing to do would be to look at its tread.
Use a penny to see if the treads still conceal Lincoln's head. If you can still see him, then the tread is less than 2/32 of an inch. That would mean it's time for a replacement.
If there's still more tread, consider the tire's age. Tires more than 6 years old could have problems still. That's about how long it takes for rubber to degrade usually. Some of them might last as long as 10 years, though.
Exposure to the sun could cause them to break down faster. Ultraviolet light interacts with the molecular structure of rubber compounds. Most of the time, you won't have to worry about this unless you live somewhere with excessive UV light.
Understanding When to Replace Your Tires
Driving on worn tires could be dangerous, so knowing when to replace them is crucial. Generally, we'd recommend using the tread as a gauge. Most tires wear down faster than they age.
Replace them once they've got less than 2/32 of an inch left on their treads. Barring that, you should get a new set of tires at least once every 10 years.
Related Posts