If you've ever walked into an automotive shop and wondered why GMC and Chevy trucks look the same, you're not alone. A quick look at vehicles from the two companies, especially the trucks, will leave you wondering if they're the same but differently branded vehicles or if one is copying the other.
Well, if they share most of their features, then why is one more expensive than the other? Why does one have more sales than the other? Worry no more; here's the answer!
GMC and Chevy are not the same car brand. And even though they have similar features, the two are very different and competing brands under the same company. GMC is more luxury-oriented, has less variety, its vehicles undergo stricter quality control checks, and are more expensive than a similar rated Chevrolet.
So, which one should you go for? Read on to find out. Today's article looks at everything Chevy and GMC from their similarities, differences, sales, and history. Let's get started.
How Chevy and GMC Are Related
Chevrolet or Chevy is an American automobile manufacturer founded in 1911 and merged with General Motors in 1917.
The company currently makes pickup trucks, SUVs, light-duty trucks, crossovers, compact cars, sedans, sub-compact cars, and vans catered to the general truck market. It's headquartered in Detroit, Michigan.
On the other hand, GMC, formerly General Motors Truck Company, is also an American automobile manufacturer founded in 1911 and headquartered in Detroit, Michigan. Currently, the company makes pickup trucks, SUVs, light-duty trucks, and vans catered to a higher-end premium market.
The relationship between both brands is that they're under the General Motors (GM) company and are made on the same manufacturing lines.
The result is that the vehicles, especially the trucks and vans, look very identical and confusing to many; you might fail to differentiate between pickup trucks from the two brands if you're not keen enough.
Then, why would GM have two car brands similar in design and build compete against each other in the automobile market?
The answer is that the brands have two very distinct sets of fans and loyalists that wouldn't even consider the other. Despite the similarities, a GMC owner wouldn't consider a Chevrolet and vice versa.
It may seem odd to some, but in reality, the two brands are very much different in performance, comfort, aesthetics, and opulence. In fact, the main features that the two brands share are the platforms, engines, and transmissions.
For example, the GMC Sierra 1500 and the Chevy Silverado 1500 share the same transmissions, engines, and platforms but have different build materials and interior designs and are marketed quite differently.
Additionally, both have a 6.2-liter EcoTec3 V8 engine, 420 Horsepower, 460 lb.-ft. torque, all-wheel drive (AWD), and a ten-speed automatic transmission. The only major difference between the two is their towing capacities, with the Chevy Silverado having a 13,300 pounds towing capacity compared to the GMC Sierra's 11,800 pounds.
And for the extra features, the GMC Sierra 1500 SLT has a starting MSRP of $54,790 compared to the Chevy Silverado 1500 RST's $49,885. The result is that Chevrolet truck sales double the GMC sales. In 2021, GM sold 519,774 Chevrolet Silverado compared to the 248,924 GMC Sierras.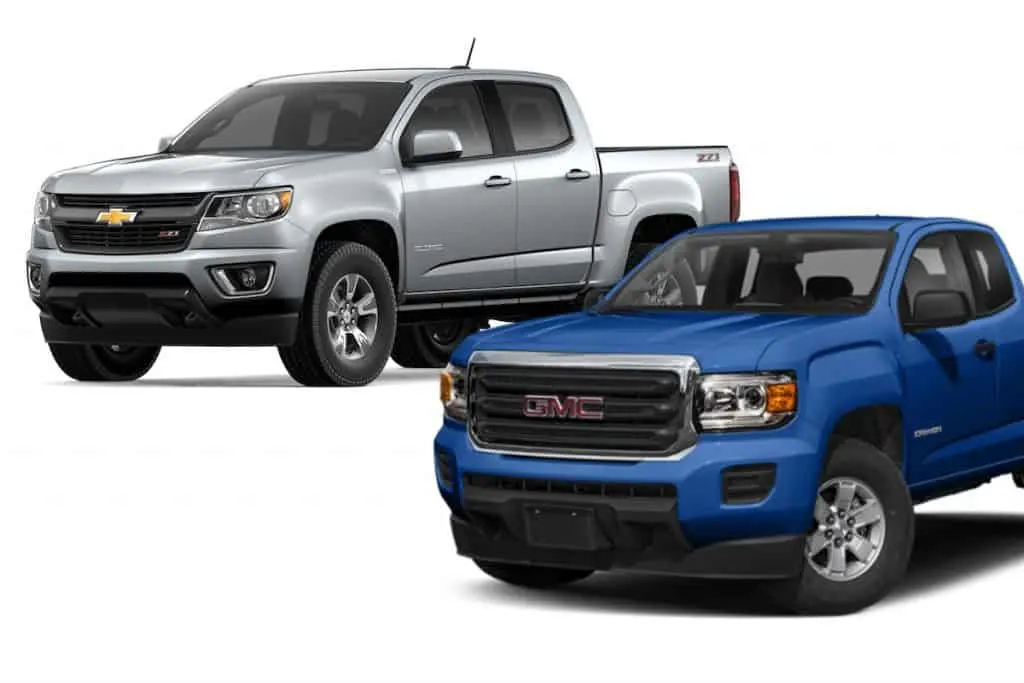 Historical Differences Between GMC and Chevrolet
Traditionally, the differences between GMC and Chevrolet were so evident that you could clearly differentiate between the two brands.
For example, GMC trucks used to have the "quad headlights" while the Chevy trucks had dual headlights.
Additionally, GMC trucks were made more robust than their Chevrolet counterparts since their target market was the construction industry. In the 1990s, GM used the same platforms and features on both trucks, and you'd find that the 1998 GMC Silverado and the 1998 GMC Sierra were the same vehicles.
And it's more astounding how GM managed to sell the same vehicle but with different badges, grilles, and headlights in the same market!
The badge engineering practice continued through 1999 and 2000 with the likes of full-size Chevrolet Tahoe and GMC Yukon SUVs.
How Do Present-Day GMC Compare to the Chevrolet?
With time, General Motors differentiated the two brands, and 2018 marked the point when the company produced the Silverado and the Sierra, which were very different from each other. The trucks share the same GMT1000 chassis, interior design, rear doors, roof panel, and drivetrains but have very different exteriors.
Additionally, the Sierra features a MultiPro Tailgate capability, whereas the Silverado has a Power Up/Down Tailgate. The MultiPro tailgate is essentially two functional gates hinged together to allow a secondary gate to be hinged within the primary one.
Raising and lowering the two gates in certain combinations creates different tailgate setups, which may be important to you depending on the load or use of the truck.
For example, its load stop feature prevents longer items such as plywood or poles from sliding out of the box. Furthermore, you'll get an inner gate work surface, a Kicker MultiPro Tailgate audio system, a 375-pounds rated full-width step, and easy access.
Other GM vehicles that feature a MultiPro tailgate are the Sierra Heavy Duty and Sierra 1500 SLT, SLE, AT4, Denali, and Elevation trims.
The Power Up/Down tailgate on the Chevys is slightly "basic" compared to the MultiPro and enables you to power open or close the tailgate with minimal effort. As you can see, it's evident that the GMCs' tailgate has better functionality and features than a similarly rated Chevrolet.
And I don't mean that all GMC vehicles have better features than all Chevy vehicles!
Chevrolet does sell high-end pickups in its High Country trim that have higher price tags than GMC's base model.
It's just that GMC targets a luxury market, and most of its sales come from the high-end Denali sub-brand. On the other hand, Chevrolet sells its trucks and SUVs to traditional Chevy enthusiasts or those who prefer functionality to opulence.
Furthermore, you'll find unique features on GMC trims that aren't on comparable Chevrolet trims. The Chevrolet Silverado Trail Boss has a 5.3-liter V8 engine, whereas a similar GMC Sierra has a 6.2-liter V8 engine.
The Sierra also has Magnetic Ride Control or MagneRide technology that adjusts and adapts vehicle shock absorbers in real-time to provide excellent shock damping, especially when off-roading, as a standard feature.
Do Chevy and GMC Compete With Each Other?
No. A primary reason why Chevrolet and GMC sell trucks that share a lot of features and still rake in huge profits is that they target different market demographics. GMC vehicles have more luxury features, hence commanding a higher price tag than a comparable base Chevrolet vehicle.
How is it possible?
As we've seen, GMC has a narrower range of vehicles under its belt. Therefore, it invests its resources in improving the aesthetics and luxury features within and outside its vehicles.
The result is that you'll get a base GMC vehicle that has similar drivetrain components to a Chevrolet but is more refined and smoother. The exterior sheet metal is more expensive, and their vehicles are sleeker and have intricate seat stitching.
Furthermore, a basic GMC work truck has better interior features that can only be found as standard in the higher-end Chevrolet, such as the LTZ trim. One example of such a feature is the single-zone air conditioning which is available on all GMC trucks, while only available on Chevrolet's LT trim and above.
Additionally, all GMC work trucks have 8-inch infotainment systems/ touchscreens, whereas such a feature is only available in higher-end Chevrolet trims.
Final remarks on GMC vs Chevy
Generally, GMC vehicles, especially trucks, are more aesthetically pleasing than similarly-rated Chevrolet trucks. On the other hand, Chevys tend to be more function-oriented and are manufactured using sturdier and less-expensive materials.
The result is that the entry-level Chevys are always cheaper than the GMCs and feature a ton of features geared towards functionality.
Finally, as much as they share a common manufacturing line, chassis, drivetrains, and technology, Chevys and GMCs are two distinct brands under the General Motors umbrella.